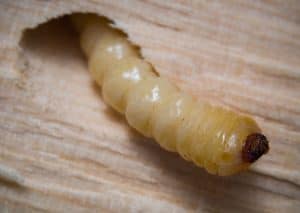 Timber Treatment London
Woodworm and Timber Treatment
The term woodworm indicates and relates to the larval stage of many species of wood boring insects that thrive in the timber and multiply.
The adult beetle lays its eggs on the cracks and crevices of the wood surface. The eggs hatch into hungry larvae which bore into the wood and feed on the cellulose of wood for many continuous years after which they travel to the surface of the wood by creating chambers and form pupa and turn into adult beetles and wood boring insects that tunnel to exit the wood.
This life cycle continues unless it is found and eradicated. Woodworm inside the timber causes damage and loss of structural integrity. Holes and tunnels make the timber weaken and decay.
Most common woodworms are the Common Furniture Beetle (Anobium punctatum) and Death Watch Beetle (Xestobium rufovillosum).
Tell tale signs to identify woodworm infestation include:
Small round holes in the woodwork
Fine powdery dust around these holes known as frass
Crumbly edges to boards and joints
Adult beetles emerging from the holes or present around the house
Dead beetles
Egg and creamy-white coloured woodworm larvae
Tunnels and chambers often hard to see
Woodworm infestation can be identified into type and class only by the professionals as varied woodworms like varied timber to feed upon and grow.
What to do if you think you have woodworm
London Damp Specialists Ltd are experts in all areas of diagnosing woodworm and administering the best timber treatment. Get in touch with us today to discuss your requirements and let us visit your property or business to analyse the problem and come up with a suitable timber treatment. Call our experienced team today on 020 7458 4864.
How we treat woodworm
Woodworm infestation can be easily rectified by an expert team.
Our the latest techniques can easily and quickly establish if there is an infestation, our medications for the preservation and killing of woodworm helps to protect all the healthy woodwork of the household and other buildings.
If woodworm has been discovered, we will most likely recommend that all timber in your property has to be treated against woodworm and all types of wood boring insects.
Although the treatment and removal of woodworm can be achieved by a number of chemicals, at London Damp Specialists we always use the highest grade and the most effective water based insecticide treatments to kill the woodworm and insects damaging your home.
One big advantage of using water based insecticide is that the home occupants can re-enter the treated property just a few hours after spraying the treatment.
The woodworm treatment is applied directly onto the timbers this killing any woodworm and eggs that are living in or near the surface of the treated wood. It will take about one hour for all of the spray to absorb into the timber. Any woodworm or eggs that are living deeper inside the wood will consume the treated timbers as they emerge outside of the treated timbers. Depending on the cycle of the woodworm's life this can be a while after the treatment has been applied.
All woodworm treatments carried out by London Damp Specialists are guaranteed for 30 years giving you complete peace of mind that the treatment is effective.
For advice call our experienced team today on 020 7458 4864.

What happens next?
Call London Damp Specialists on 020 7458 4864.
Alternatively, you can book a survey online by completing your details below.
Once you have submitted the form, one of our surveyors will be in touch with you to discuss your problems within 24 hours.
Your free, no obligation damp survey will typically only take between 15 to 30 minutes.